(PRWEB) May 26, 2010
Since the release of No Nonsense Muscle Building in 2006, Vince has become known as the "Skinny Guy Savior" to over 20,000 customers in over 120 different countries. Vince's muscle building blog is where his readers congregate each day and interact with Vince and learn his no nonsense approach to building muscle and getting six pack abs.
Recently, in light of his upcoming wedding on June 26, Vince has teamed up with his beautiful fiancée Flavia Dragos to create the June 26 Wedding Workout to help their friends, family and customers get ready for summertime, and can be found at http://www.June26WeddingWorkout.com.
Every $1 they donate helps raise $5 worth of food.
This programs includes their top muscle building exercises and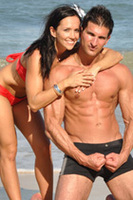 best nutrition information to accelerate your fitness results and be ready for the summer.
The reason they made this program was to help their huge Italian and Romanian families "look hot" for the wedding and to feel their best for summertime. Flavia has sixteen brothers and sisters and Vince has over a dozen nieces and nephews so this program was designed to primarily help their family members. Since they both come from big European families and this is the biggest day of their lives, they will be eating like it's the biggest day of their lives and indulging in a multi-course feast that many less fortunate people in the world can experience.
Flavia and Vince have decided to donate 50% of the proceeds to the Hamilton Food Share to help feed the hungry people in their local community. Every $1 they donate helps raise $5 dollars worth of food. So their donation will help raise $25,000 worth of food. It's wonderful that they are sharing their success with more than 18,000 people who are struggling to eat.
On top of that, Vince and Flavia and running an 8-week transformation contest that ends June 13, 2010 and rewarding the top transformation student and guest a seat to their wedding! Plus their airfare and hotel accommodations will be covered. Vince has been teaching skinny guys and girls how to build muscle for the past four years and his online business has changed his life and his wedding absent of "Vince Del Monte Fitness Fans" representation would not make a complete wedding. They look forward to taking a picture with their top success student and allowing them to celebrate with their friends and family.
Like this article? Please rate and share below!
If you liked this article, you'll LOVE our No Nonsense Newsletter!
Sign up Now and
Learn how to eat to get Lean and Ripped…
Learn how to lift to get Bigger and Stronger…
Learn how to stay motivated to Build Your Dream Body…
PLUS… 3 exclusive free gifts as a surprise!